What is Clickfunnels and how you can use it for your online business?
If you are the one who wants to build, grow, or scale their online business? You must have a perfect sales funnel, and during the research for the tools to build perfect sales funnel you landed over here on my blog, Am I right?
I though so ?…!
Hey there, this is Sagar Sangam Sahu (Independent Affiliate Marketer, Sales Funnel Builder) and In this article, we are going to describe What is ClickFunnels and How Does It Work, and how these exclusive sales funnel builder tool can help your online business.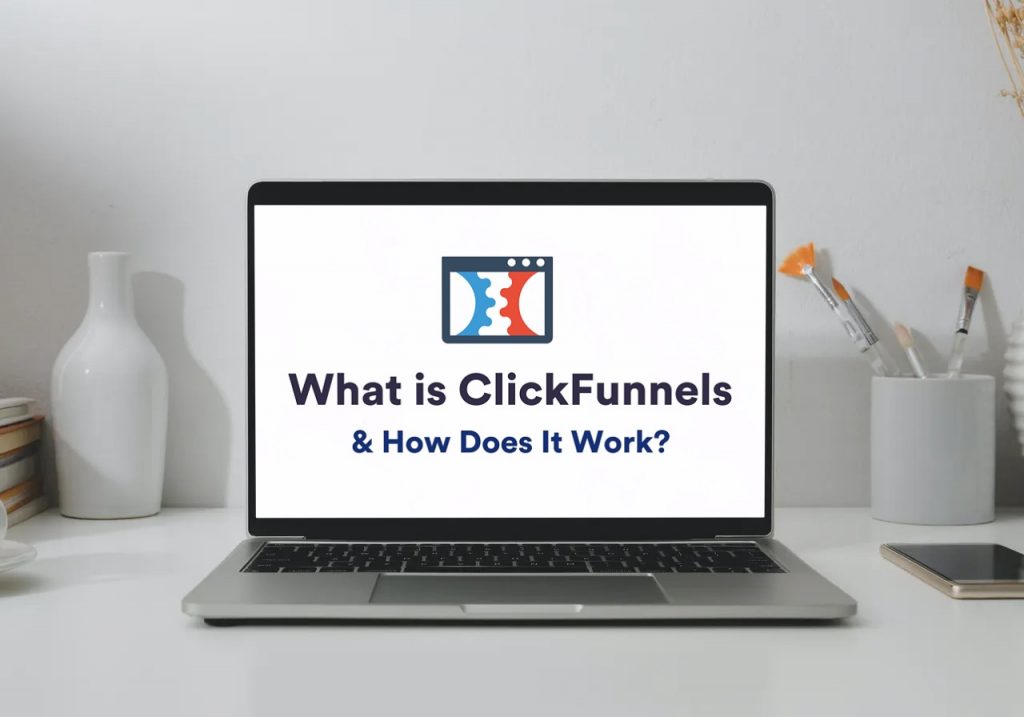 When I started working to build my business online, I knew that it wasn't going to be easy to ensure success, especially when you have giant competitors out there. Fortunately, while I was looking for a solution of How to Earn Passive Income with Affiliate Marketing Even Without My Own Product for or you can say I was looking for a solution on How to Make Affiliate Income Without Website or Blog.
During my research, I found that I really don't need a website to sell products and services online. The only thing which I need to master is building high converting sales funnels.
I found the One Funnel Away Challenge by the Co-Founder of ClickFunnel i.e. Russel Brunson. This Challenge helped me to learn how by using a sales funnel I can build my own business online by having a laptop lifestyle.
You can join the one funnel away challenge here and when you join through my affiliate link I'll add more value and bonuses to that worth $2000 by giving you free access to my sales funnel onboarding course and, you that is 100% FREE of cost.
Again after the second level of research, I started looking for the tool which may help me to build professional high converting sales funnel faster than ever, since I am not a tech guy so I was not ready to learn all that blog, content writing, SEO (time taking tasks).
During that research, I came across ClickFunnels. Once I learned what ClickFunnels is and how it could help my business, I was literally hooked. Now almost 90% of my business is built on using a single tool i.e. ClickFunnels.
Here in this blog, I am going to share my experience by explaining what ClickFunnel is used for and how it can benefit your business.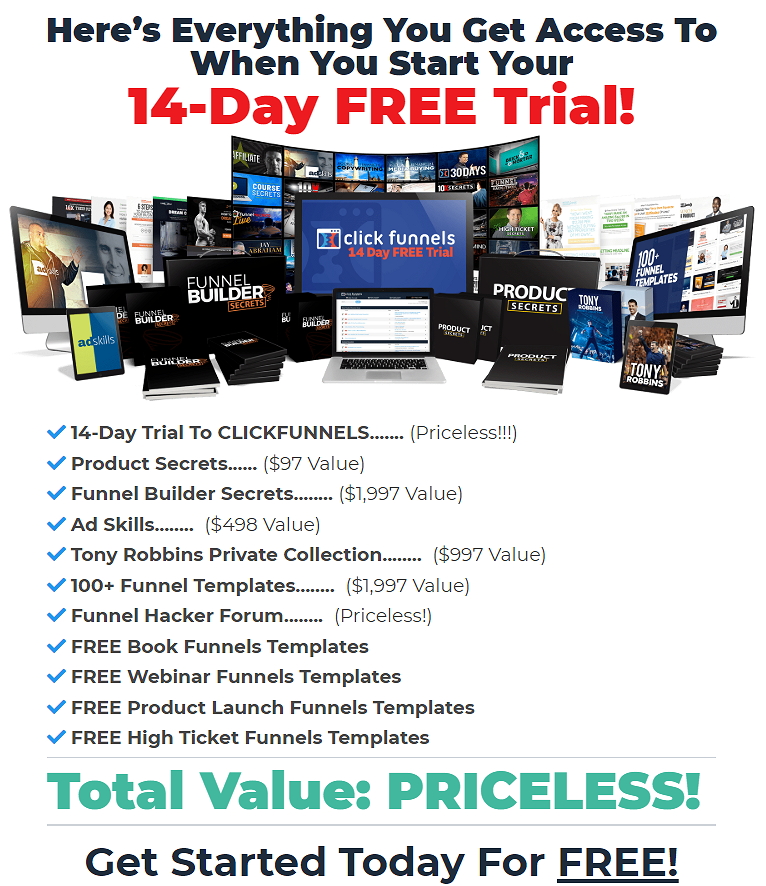 What is The ClickFunnels Actually?
ClickFunnels is a software that helps individuals or business to build sales funnels, landing pages, and sales pages. It's basically (SAAS) Software as a services subscription-based program that was primarily designed to help businesses create highly effective sales funnels that make it super simple and easy to generate leads and make sales and, do you know the good thing about ClickFunnels is? That you don't have to be a programmer to code or design sales pages.
ClickFunnels has a large collection of business-oriented templates that you can select and create pages for your website to drive lead generation and sales. These templates are really appealing and can be customized based on the idea you have in mind.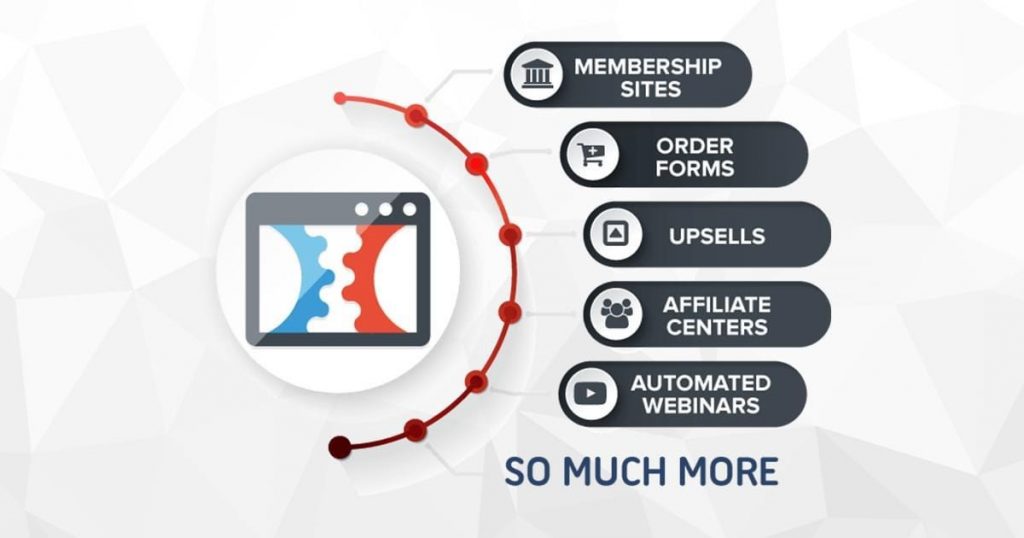 Once you have selected the funnels template, you'll just have to drag and drop various elements on the template to get a finished product. This saves you from any coding efforts and makes the process of creating attractive Lead Gen and sales pages simpler and faster.
Now I hope you understand that ClickFunnels is an ultra advance and leader in sales funnel building, a smart solution for entrepreneurs who lack the design and coding skills. If you want to explore more about sales funnels, why you need to build sales funnels for your business, and how ClickFunnels can help you design highly professional sales funnels, keep reading!
Why do you need sales funnels in the first place?
A sales funnel represents a journey that starts from the initial stages of your sales funnel that addresses thousands of prospective customers and ends with the last stages in the funnel where you only talk to fewer people who are truly interested in doing business with you.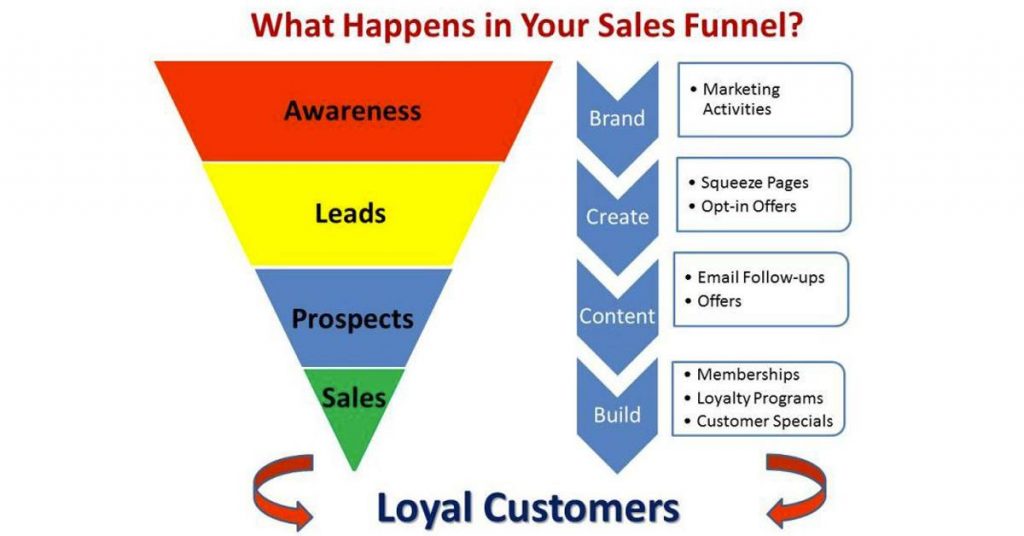 How ClickFunnels is used to build sales funnels

?
When you have ClickFunnels as your first preference to handle funnels and integrated automation in your marketing toolkit, you don't have to do everything yourself. ClickFunnels will help you build converting sales funnels through a simple, 3-step process:
Pick a sales funnel template that fits your business model ( lead generation, webinar, auto webinar, product launch etc.)
Choose the best page design style which represents your product or services better.
Make changes to the pages content and cross check everything and hit publish.
I hope now you understand Instead of spending a lot of your precious time explaining your goals and preferences to designers and programmers, using pre-designed, proven funnels to achieve your business goals is a smart choice.
Bonus:- Get Instant Access to 100+ Lead Funnel Swipe Files
While the core function of ClickFunnels is to build custom sales funnels, the SAAS tool offers a range of other valuable features like Split testing, email integration, or use actionetics (Clickfunnels has their own email automation tool), custom domain hosting, a range of 3rd party integration like Stripe, Paypal, active campaign, zoom, go to webinar, WordPress, funnel types and templates.
No matter what is your business model (One Time or Recurring), whether you need to build an email list or want your audience to buy your products or services whether you're a newbie or pro, ClickFunnels has a template that meets your requirements. You don't have to be a sales funnel expert to make the most of your investment.
List of the Type of Sales Funnels You Can Build Using ClickFunnels
As I said above no matter what is your goal, you can build high-converting funnels using Clickfunnels in a matter of minutes. Just to make sure that it's a best-ever investment to grow your business. I've listed the type of funnels you can build using this awesome SAAS:-
Membership Funnels
Webinar Funnels
Auto Webinar Funnels
Lead Generation Funnels
Tripwire Funnels
Product Launch Funnels
Affiliate Bridge Funnels
App Marketing Funnels
Affiliate Program Launch Funnels
eCom Funnels
and a lot more. Also I have enlisted the kind of integration it has:-
Payment Gateway (Paypal, Stripe, JVZOO, Recurly, and a lot more)
Email Autoresponder ( Active Campaign, Aweber, Convertkit, Drip)
Custom Domain (No. of domain based on the plan you have opted-in)
SMTP Integration
Tracking Tools
More Powerful Integration with Zapier & Integromat
How to set up ClickFunnels?
ClickFunnels is a paid subscription-based funnel builder and before to upgrade you may test the ClickFunnels free for 14 days. Yes you read it right.
Here are the steps you need to take care of:-
Click here to get 14 days FREE trial
Choose your plan
Create your account
Watch onboarding video by Russell Brunson
Click on Funnels to build your First or Next High Converting Funnels.
Choose the type of funnel
Select template
Update your content
Add Facebook pixel, google analytics or any other tracking tools for marketing purpose.
Setup SMTP for email automation
Integrate payment gateway (optional)
Check your funnel before launch
Hit Publish
Bonus:- Get Instant Access to My FREE Community to Learn How to Use ClickFunnels
How Much will ClickFunnels Cost?
Before that keep in mind when you purchase the ClickFunnels Susbcription using my link here. I'll send you FREE training and resources to build better high converting sales funnels and all for FREE.
Excited? So let's Let's check out the pricing!
ClickFunnels offers two subscription plans with a free 14 day trial period. The basic subscription costs $97 per month and it comes with a limited number of funnels and pages (20 Funnels and 100 pages). The ClickFunnels Platinum Package is their premium plan and costs $297 per month (Truly Unlimited). This plan offers an unlimited number of funnels, landing pages, and landing page traffic, as well as Email Funnels, Affiliate Marketing Software Backpack, and their on-demand training platform FunnelFlix.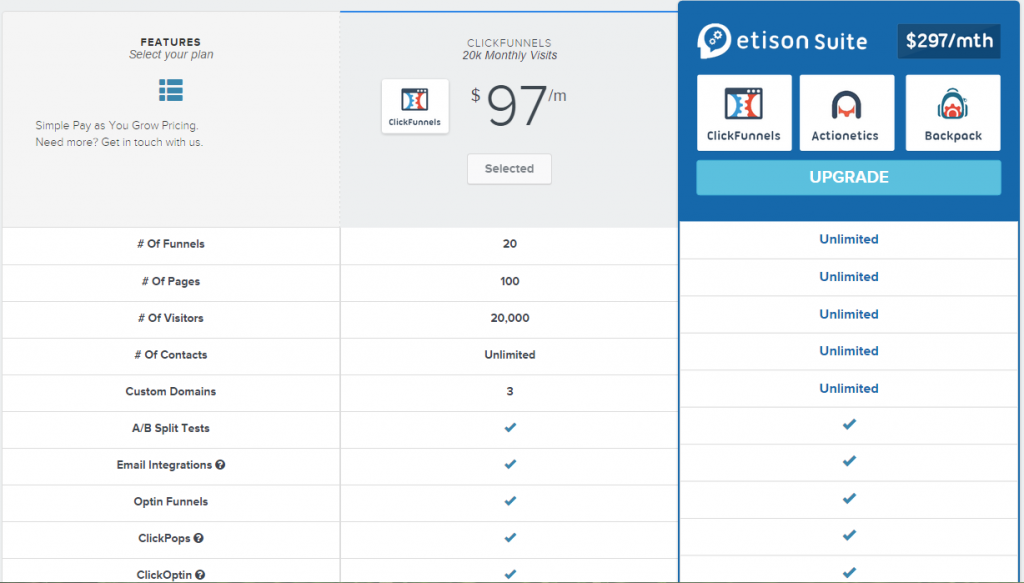 When making a purchase decision, make sure to consider the long-term benefits of having a streamlined sales page creation process in place.
Bottom Line:-
ClickFunnels is an amazing tool if you are looking to boost your online sales. The $97 entry price might be good for a newer business but if you can afford make an investment on Truly unlimited plan of $297 per month. You do not need to have any other 3rd party tool to build funnels after that. However, you must spend the time choosing the right funnels and templates according to your business and target audience. Be sure to choose the templates based on your buyer journey stages to make this an effective part of your marketing strategies.