What is 2 Comma Club Live virtual conference 2021 and how to join?
Hey there, This is Sagar Sangam Sahu and today in this article I'm gonna share my reviews for two comma club live virtual conference by the founder of clickfunnels or the king of funnels "Russell Brunson"
About Me: I'm on a mission to help individuals build their online businesses with sales funnels and affiliate marketing. I Am Helping People To Make a Living Through Monetizing Sales Funnels Which Attract The Potential Audience and Generate a Full-Time Income Without Working 15 Hours Every Day.
Before to share the reviews of 2Comma Club Live virtual conference 2021, let me first tell you about what is 2 Comma Club if you are not aware about that.
Two comma club is basically an award given by the Clickfunnels ( The Sales Funnel Builder SAAS) to those who have generated over $1,000,000 (1 Million Dollar) with the one single funnel using their software.
Since there are two commas when you write 1 Million Dollars in numbers, that's why it named 2 comma club. Now let's talk about 2 Comma Club Live Virtual Conference.
What is 2 comma club live?
Do you know in the first week of February Russell Brunson the co-founder of Clickfunnels has made a big announcement i.e. the reopening of doors for the 2 comma club live virtual conference once again due to popular demand and the huge success of previous live events hosted in 2020 during coronavirus pandemic? 
This is going to be the first-ever virtual conference held by clickfunnels in 2021.
The 2 comma club live virtual conference is basically a three-day LIVE event hosted by Russell Brunson and the team of clickfunnels followed by some of the 2 comma club winners like Stacey Martino, Alex Charfen, Tom Bilyeu, Heather Quisel, Myron Golden, and Prince EA.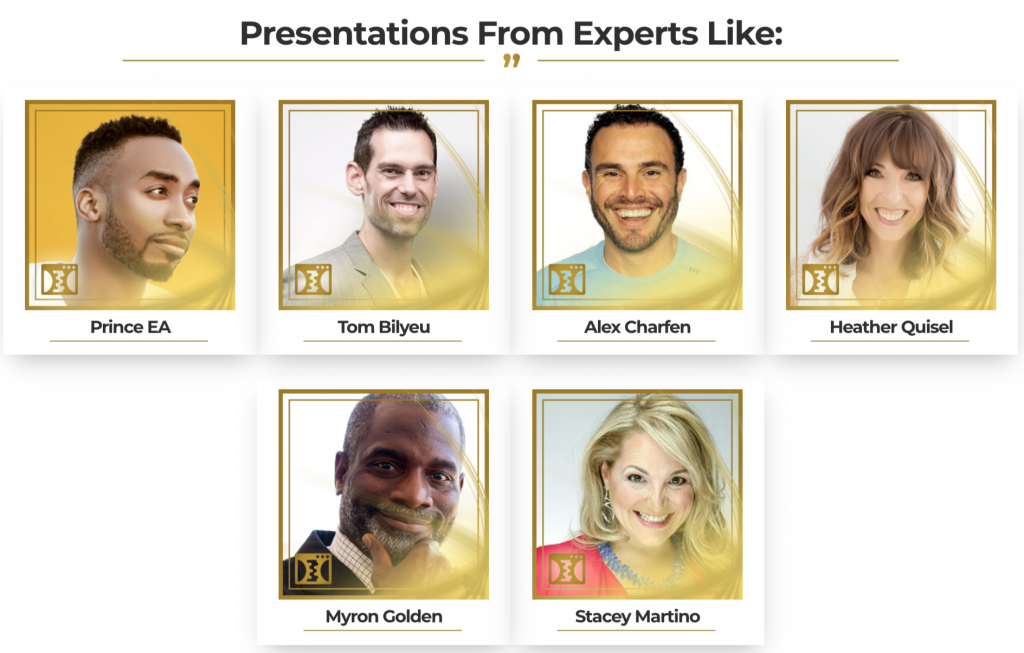 When & Where this is going to happen?
This is going to be live for 3 days from 24th to 26th Feb 2021.
This is a virtual conference which means you can join it from the comfort of your home or wherever location you are but, you should have a laptop and internet connection only to join this event.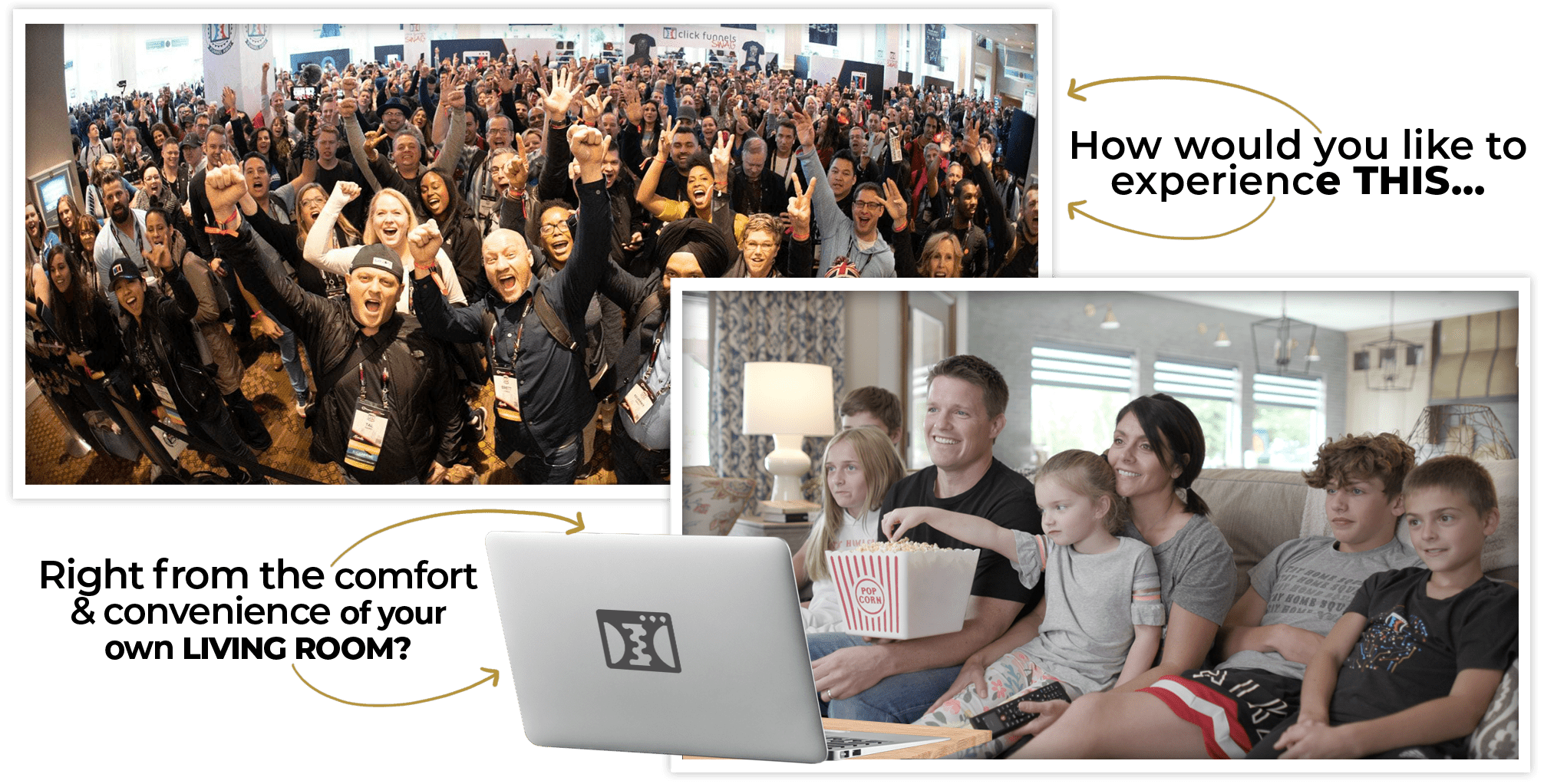 It has become hard to join the live event by traveling to the USA due to various restrictions placed by the government of almost every country in the world.
But who can stop russell? He has tried to help out the individuals or businesses like you to grow their business by learning the funnels and strategies all from your own location.
Who is this for?
Now you might be thinking "Am I a good fit for this event" or who "2 Comma Club LIVE" is for…
Well, it's for those Russell calls the 1% Crazy in the world..
Now by Crazy he doesn't mean people who like pineapple on pizza… (that's disgusting)
It's for those who feel like their business idea can help them to build their legacy… and this is how they want to change the world…
It's for those who know they NEED to grow their company online, impact their customers lives, and provide for their loved ones in short to grow your IMPACT while growing your income.
The ones who get excited to learn about marketing, personal development and modelling other people's success to create a roadmap of their own success.
​It's for those who want to win a two comma club award… and have two comma's worth of impact.
If you are doing online business or want to make business online this event is for you
If you want to learn the three pillars of online business "Promotions, Sales, Operations" this virtual conference is for you.
If that sounds like you… then welcome to the 1% crazy, this conference was created for YOU! And you are invited to join the event.
Why should you join this?
The Live presentation by the 2 comma club winners will give you an idea of how you can grow further in today's online business environment.
With the successful online business case study that is going to be revealed at the live conference whether you are starting your online business or you already have an online business.
Whether you are selling products or services it gives you the idea to craft out your own personalized business plan and take the right direction for your business growth.
Now let's talk about what exactly you will learn in the 3 day live session of 2 comma club live virtual conferences.
Day 01 – Ignite with Russell Brunson
The beginning of the virtual event is going to happen with Russell Brunson which is called Ignite and here you will learn how to turn your Spark into the fire.
In the day one session you will learn a few most important things which are required for your online business.
1. During this session you will learn how to find out your passion, your voice and how to represent your message about your passion in front of the world.
2. You will also find out how to identify your ideal audience as a business for your brand.
3. At the end of this day you would be able to find how to help your audience start to find you.
Russell Brunson is going to be the key person for day one and along with his guide you would be able to determine your potential, your voice, the services or products you want to sell and how to sell.
Day 02 – Nail it with 4 Master Funnels
On the second day of the virtual conference, you will be introduced to the concept of sales funnel followed by the four master funnels that are helping 2 comma club winners to drive 98% of sales.
Most marketers, businesses are out there who think that building a sales funnel is time-consuming and a very complicated task.
But during this three days workshop you will be able to find out the four master sales funnel which is driving 98% of the sales for the two club winners.
you will be able to clear the fundamentals of sales funnels to achieve the great success in the online business world.
Russell and his team going to unbox the four master funnels that you will have to be good at:-
Lead funnels
Unboxing funnels
Presentation funnels
Phone funnels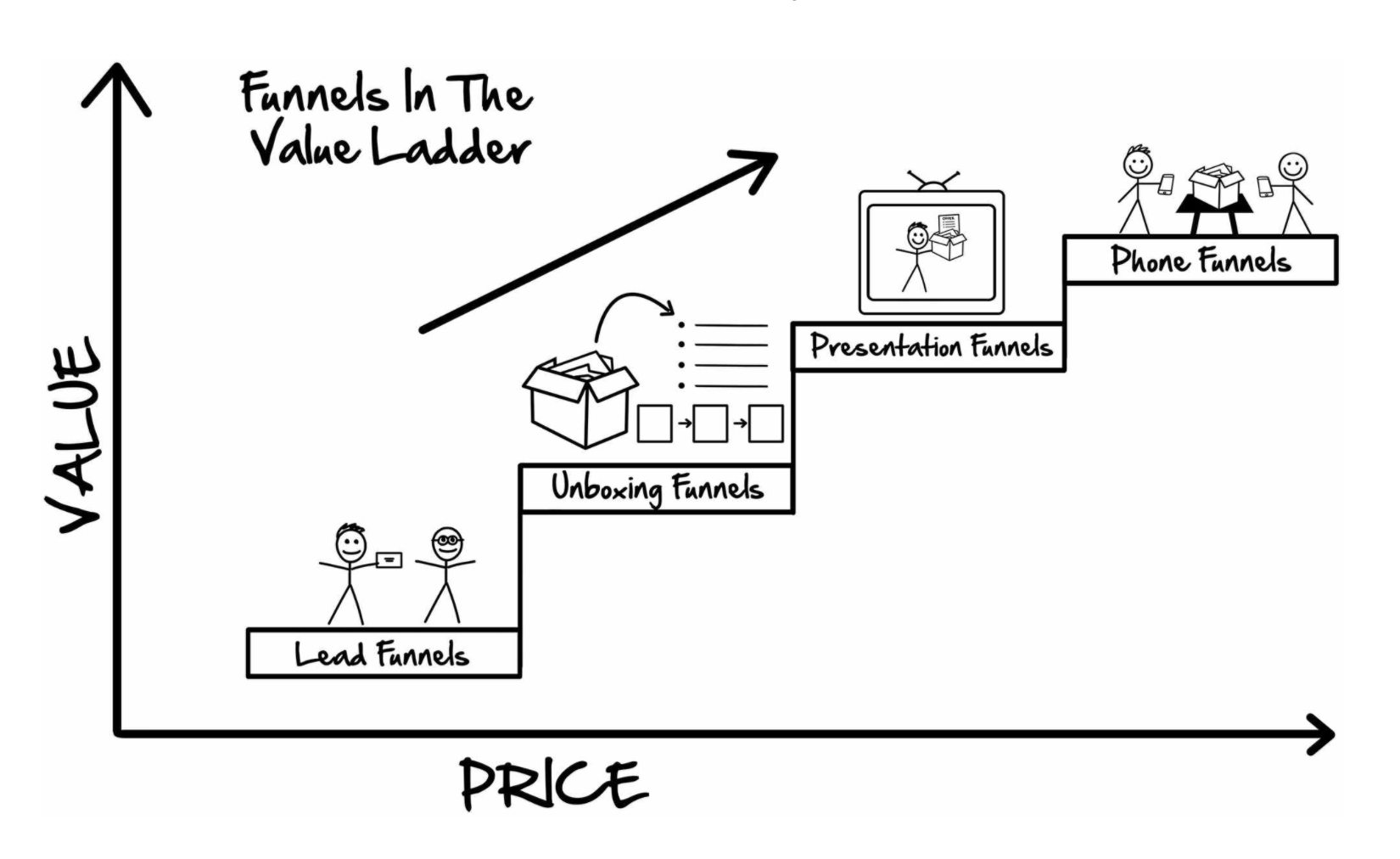 Please Make sure to watch every session till the end so that you can grab some cool bonuses to take advantage of the group of 1% crazy as Russell defines them.
Day 03 – Scale it when you Nailed it.
Quick Recap before to proceed further.
On Day 01 you have learnt how to plan your business?
On Day 02 you have learnt how to launch your business with 4 Master funnels?
Now let's talk about the day 3 which is Scale it when you nailed it.
To scale any business online you must have a lot of laser targeted traffic which is getting redirected towards your sales funnel.
In the 3rd Day of the live virtual conference you will find out how to drive traffic to your sales funnel and how to build your team so that you can sell more and grow your business.
You'll learn the business mindset to grow your business online followed by personal development.
How can you join for FREE & pay later if it's a good fit for you?
Do you know normally if you need to attend any of the previous funnel hacking live events it costs $997 dollars per applicant.
That means if you and someone along with you want to visit with you on a funnel hacking live event in the USA you need to pay $1000 per person that means to bring up a group of 4 people, it would cost $4000 and it does not include other costs i.e. flights, hotels and, food.
But since Russell is going to make it live so you can watch from your home or whatever the location you are.
And the beauty of this live virtual event is that it is completely free to register and join. The general conference cost is $197 to attend but Russell wants to make sure that you love it before you pay.
So this is how you can register by paying $0 and if you think that it was worth it after that you will get charged $197 post event.
If for some reason you decide that the virtual conference was not for you. In that case on the last day of the event you'll get an email from the team of clickfunnels which you can use to let them know that you didn't think it was worth the $197 and they will cancel your order and you will never pay anything.
So the bottom line is you need to pay only if you think that it is going to be worth it for you.
How can you save $50 instantly rather than paying it full cost?
Even the general cost of 2 comma club live virtual event is $197 this is a no brainer deal. But still you can have it for $147. 
During the registration of the 2 comma club live virtual events, you will have an option to pay upfront for the event and if you pay upfront you will get charged just $147.
And as you know Russell Brunson is the king of funnels and online business so this is going to be the full value-packed live event with Russell and the other 2 comma club members, which is going to help you out to grow your business.
This is how today you can save $50 rather than paying full cost i.e. $197.
How can I add more value if you join through me?
I am not going to hide anything from my blog visitors from my community from my followers.
Being transparent, I am an independent clickfunnels affiliate and I can help you out to get more out of it from this two comma club live virtual events.
Did you enjoy my 2 comma club Live Virtual Conference Reviews? Let me add more value with my BONUSES
Here'e what you'll get from my side:-
BONUS 01- Access to Accountability Group to keep you on track with event. Along with direct access to the follow participants.
BONUS 02- Done For You Affiliate Bridge Page You're sitting on an affiliate bridge page. [This] is a type of sales funnel, and I want to give you your own copy to use for yourself. You can make this page of your own with just ONE Click and start promoting right away!
BONUS 03- Lifetime Personal Support(Priceless) You can Contact ME any time through Messenger or email and ask any questions or queries, I will answer them personally.
BONUS 04- Perfect Webinar Selling Script The Exact Scrip He Use For All His Presentations & Sold Millions !
When you will join through my affiliate link by click here you will get redirected to my affiliate bridge page where you will find out all the bonuses you will have from my side when you complete the registration process through my link.
To find out the list of bonuses to get more value smash the button down below.
Conclusion
This is going to be your exclusive chance to connect with Russell Brunson and the other two comma club winners to build a roadmap of your business success. Whether you are selling products or services, whether you are starting from scratch or already have an online business.
This event is going to help you out to scale your online business.