What is one funnel away challenge and where I can find the best deal & bonuses?
Hey there, This is Sagar Sangam Sahu and today in this article I'm gonna show you the review and details on What is One Funnel Away Challenge Actually and How It has impacted my life 
Before starting the review I'd like to break the myth that, it's not just another funnel building challenge or course or training program. But it's more than that, I would say this one challenge is the foundation of my current online business.
This one challenge helped gave me more than 50x ROI , generated over $6000+ affiliate commission from the single affiliate program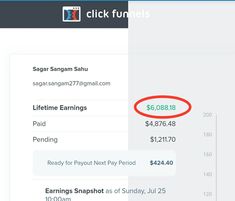 If you are into a kind of online business where leads or sales matters and, you want to start selling in the next 60 minutes. It means building a sales funnel is essential for any online business.
A simple sales funnel using ClickFunnels helped boost my lead generation by 150% and my results are modest compared to thousands of other ClickFunnels users.
But if you're new to online selling or have never built a sales funnel before, getting started can be overwhelming.
Where do you begin?
No worries I am gonna show you the path but, Before to begin, I wanna say that, In my ultimate in-depth One Funnel Away Challenge review, I'm going to tell you everything you need to know about this popular training program based on my personal experience of taking it.
However, if you were hoping to buy a training program and set it aside for later, then the OFA Challenge probably isn't for you.
I only recommend pieces of training that I've taken and I believe in 100%. As a matter of fact, I've also taken the One Funnel Away Challenge to grow my own business.
You'll find What's Included in this review article below for quick navigation to the parts of The OFA Challenge review that most interest you.
Let's dive in!
What is The One Funnel Away Challenge?
The One Funnel Away Challenge is basically a training course by the co-Founder of ClickFunnels, Russel Brunson and his coaches. 
It's basically a 30 days challenge that will guide you step by step through the process of mapping, building and launching your's first or next High Converting Funnel. 
But here is the catch. 
It's not just like any other course or training program where you have joined with a thought that you'll take a look into it later. 
If you are thinking this program in a that manner, sorry mate this program is not for you. Why? because by enrolling into the One Funnel Away Challenge you need to take regular actions as guided for the next 30 days by the coaches. 
After 30 days it'll get self destructed, because mission gets completed. 
In a very simple words I can say you are not going to enrol for just another information course out there in the market, but you are going to have an experience how multi million dollar businesses build their funnels and sell in automation. 
When you enrol for The One Funnel Away Challenge from it's starting date to next 30 days, on every single day you are gonna trained by Russell Brunson & other millionaire coaches who helps you to take closer to build and launch your first or next high converting sales funnel.
People retain 90% of what they learn when they put it into immediate practice, so when you complete the daily missions, you're solidifying your knowledge.
But don't worry, the daily missions set by Russell aren't too difficult to complete; however, they are designed to make you stretch your limits and think outside the box.
After the end of the 30 days, you'll be ready to release your first (or next) funnel to the world.
I took the challenge myself 4 times , because i belive repetition is the mother of mastery & father of taking action
Each challenge heled me to launch my new funnel & moved me up in my game 
Russell Brunson, Stephen Larsen and Rachel Miller  are the instructors and via video lessons, membership area and, facebook group, they will be teaching you everything they've learned in developing multiple million-dollar sales funnels.
Is The One Funnel Away Challenge Right For Me?
Most of the people on Facebook has asked me, is it the right training program for them to join?
So I decided to include this in my article, so that I do not need to answer each one of them one by one, you know. It takes a lot of time and I love automation.
The answer of the above question is, I personally feel that this 30 days challenge program is not for everyone, yes mark my words it's not for everyone. 
In general words I can say this program is for you if you want to minimize the learning curve and focus on business growth. 
This program is right for you if you are:-
Want to reach more people to have great impact 
An affiliate marketer who wants to increase sales without website or blog.
Don't have an online business but wants to start and grow in a right direction. 
Have an online business but wants to generate more leads  and increase your revenue with less ad spend. 
Need a clear path to hit next goal in your business. 
If you fall into any of the above options this program is for you, trust me. 
Also This program is not right for you if you are:-
Thinking it's a "Get Quick Rich" scheme.
Thinking that you know how to build funnels and you do not need to dig more on this. 
Thinking that you will join today but will consider it just another course and will give it a time later.  
If you are not ready for the investment.
If you fall into any of the above options this program is not for you, trust me and you should stop reading my one funnel away challenge review right here. 
Why You Need to Join The Next One Funnel Away Challenge?
Do you know, I've already bought the One Funnel Away Challenge for 4th times . Why am I going back for seconds and thirds of the same info course?
Because The OFA Challenge gives A TICKING CLOCK…
This training program self destructs exactly 30 days once it starts. Russell the co-founder of Clickfunnels was sick and tired of seeing people buy his courses, only to watch them and never take action.
If you're serious about building funnels, then the OFA Challenge will kick your ass to focus on the work and build your own legacy by showing up daily. 
Plus, coach Stephen will be in your ear on facebook group or zoom calls to keep you on track.
So let mw know, are you ready to seize the day for 30 days straight?
And one more thing I want to make it clear, The enrollment in OFA challenge isn't always open, so it's important to take action while you can. 
and If you are ready to join, I'm here to give you bonuses when you join the one funnel away challenge using my affiliate link (don't worry you do not need to pay extra cent for it.)
Excited? Smack the button below and know more about the bonuses. 
Overview of The One Funnel Away Challenge.
Now let me show you what's inside the challenge:- 
Once you join the OFA challenge using my link, you will get an email from ClickFunnels welcoming you in the challenge and directing you to signup for the membership area and facebook group (The group will taken down after 30 days so keep taking action everyday). 
But you can have this program for just $100 one time payment and $4,000+ worth of bonuses + Mentorship from my side. 
However, there is one small detail to the pricing that you need to be aware of:
From here it's just finalizing the details. Click on the button above and signup for the One Funnel Away Challenge and just after that drop me an email to get your bonuses, then we can finally get started!    
Thanks for taking the time to read this one funnel away challenge review and I look forward to hearing your success story at the end of the challenge!