How I Did 300+ Days Without Any Break ❓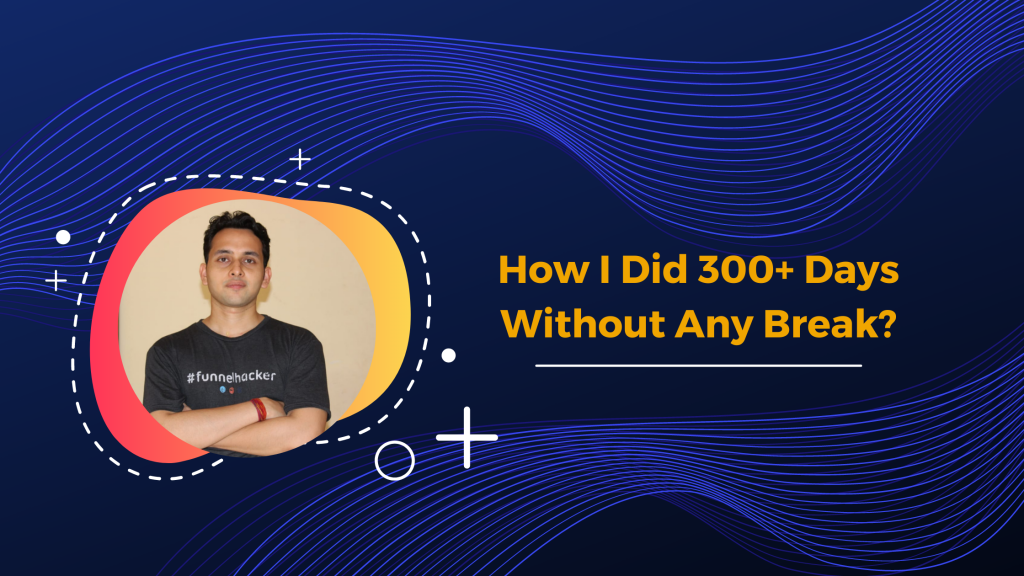 𝟯𝟬𝟬 𝗗𝗮𝘆𝘀 𝗢𝗳 𝗖𝗼𝗻𝘀𝗶𝘀𝘁𝗲𝗻𝗰𝘆
Why I Started going fb live ❓
How I did 300+ days Facebook live without any break ❓
What are the results I got❓
So here is the story
I started doing fb live when Russell Brunson mentioned in ofa (old version) 2nd week that
▶️▶️Your life will be never be the same when if you publish for next 365 days in one platform
So I have taken this challenge to bring positive change in my life…
I was trying to go for podcast challenge but I felt that I am hiding myself, I am putting myself into comfort zone😊
I badly want to transform myself because I was into serious debt and lots of failures in job..
Then I have taken fb live challenge that I have to take massive action to transform my life
After lots of procrastination I finally started my fb live challenge of 365 days in August 2020💪🏻💪🏻
It was not that easy enough for me to maintain this because sometimes I was traveling , in function, in hospital 🏥 bad network… But that's didn't stopped me from going live
I take problems, challenges as a blessing 🙏🏻gift of God 🎁
No excuse
So Here are some Results of doing fb live
First of all
🔰 I was very shy and introvert in nature…Fear of Comming infront of camera was more than fear of death for me😱
That's was the biggest breakthrough
🔰 I never ever speak infront of public, that I did
🔰 I did not understand and speak at least minimum required English since childhood I hardly speak English (it's my 3rd language)
🔰I am able to impact other people lives by helping them the same thing I do… At least 30 people started fb live for the first time in their life because of my fb live challenge (5+ people doing 50+ lives, one crossed 100+ )
.
🔰 Never stopped learning a single day whatever it takes… Because to share something valuable I have to learn or implement first
🔰 I am able to get my first dollar through fb live(now it's 5k+)
🔰 When I completed 100 th live got offer from top youtuber having 5+ million subscribers to record video for his digital marketing course😍
I got shocked 😲 😳🤔
🔰 Grow my List to 800+ now
🔰 Grown my Facebook group from zero – – > 670+ Now
List goes on I have documented all in my profile
🔰 Apart from numbers I have created so many friends that more than family now inside clickfunnels 🙏🏻🙏🏻🙏🏻
sincerely Grateful for this 😔
Because live is something you build Instant trust with your audience
These may looks like small but its crazy achievement for me
Many people asked me what is the result after spending so many days.. I say 5k…
5k might be very small.. but for me this is huge when I was earning $250 dollars a month working 12 hrs+ daily
For fb live I spend Avg 5 min a day…. I don't give long lecture… Just share 1️⃣ learning and experience from the day…
▶️As Garyvee says don't create, document
I don't focus on only money not all the time..
Hardly you will see any CTA in my live just focusing on value..I look for the one message I can share with my audience today
Thanks to all people who helped me in my journey 🙏🏻🙏🏻🙏🏻